Audit Trail and Fraud Control Check Up*
* for Dentrix and Easy Dental Only
Scroll Down for Details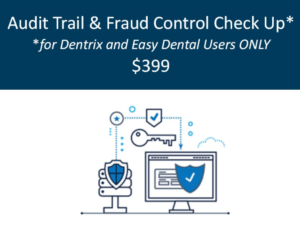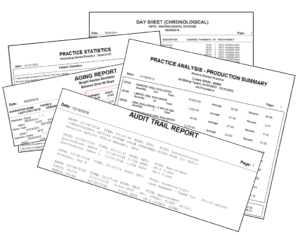 Four simple steps
Step 1:
Order your Audit Trail and Fraud Control Checkup for $399.
Order today!
After your order is confirmed, within 24 hours you will receive an email from us with simple instructions, and a copy of our Business Arrangement Agreement for HIPAA compliance purposes.
Step 2:
You will complete the questionnaires contained in the email. The questions are easy, they require no preparation or math. The format is multiple choice, yes/no and long answer. It will take you approximately 45 minutes to answer all the questions.
Step 3:
You will send us copies of the Audit Trail and other reports we need from your software.  We will tell you which reports we need and how you can get them to us securely.  If you prefer, we will obtain the reports we need from your Dentrix for a small administrative fee. (details will be included in your email)
Step 4:
We will review your responses and examine your reports.  Within 5 business days you will receive an email from us to book a one-hour private meeting with William Hiltz.
Mr. Hiltz will meet with you to discuss what was found, how the results impact on your practice and to identify the areas where attention is needed. You will also receive a summary report of our findings and  recommendations.
Order today!
Frequently Asked Questions
Q: Is this an comprehensive audit of my controls and software?
A: No, that is a different service we provide.  As the name implies, this is just a "check-up" that looks for problem areas in your business policies and practice management software. We also assess where fraud controls are missing or deficient. 
Q: Does the check-up implement fraud prevention controls?
A: No, this checkup is intended to identify areas in your practice where fraud controls are missing or  deficient. We provide you with a list of the controls that are missing or deficient in your practice and discuss each of them with you in terms of risk and priority and risk.