Dental Embezzlement Red Flag Assessment
"The key to early detection is to monitor the warning signs."
INSIGHTFUL • HONEST • ANONYMOUS • FREE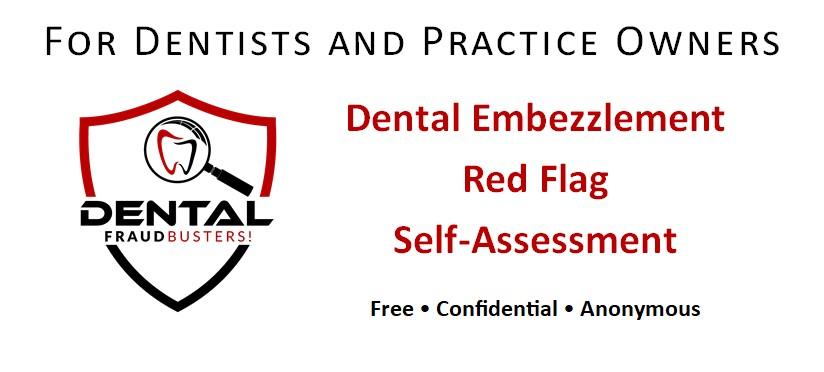 Dental FraudBusters by Hiltz & Associates
Self-Assessment Fine Print
Your responses to this assessment remain ANONYMOUS*
The only requirement to take the assessment is your email address**
We will

never contact or solicit you

about your score, or participation in this assessment.
This assessment is FREE, and you can take it as often as you like.
This assessment is not designed or intended to sell our services.
The assessment is comprised of 3 groups: Financial Red Flags, Software Red Flags and Employee Red Flags***
Your scores will be explained immediately after you finish the assessment****
* Our system is designed to ensure the anonymity of your responses. We cannot match responses, with your email address. Even the administrator (Bill) cannot link the response data and participant data..
**Your email email address will be added to our general newsletter list, and you can easily unsubscribe anytime.
*** Below is a list of the top 10 employee fraud indicators according to the Association of Certified Fraud Examiners 2014 survey:
You will be asked about these, and other red flags during the assessment.
1. Living beyond their means – 39%
2. Financial difficulties – 34%
3. Control issues, unwillingness to share duties – 19%
4. Unusually close association with vendor – 15%
5. Wheeler dealer attitude – 20%
6. Divorce / family problems 17%
7. Irritability, suspiciousness or defensiveness – 14%
8. Addiction problems – 13%
9. Refusal to take vacations – 7%
**** The assessment responses are Likert Scale and Yes-No. Each "Red Flag" is assigned a score based on fraud research and personal experience. Certain Red Flags are weighted more heavily than others.