Your practice is no place for dishonesty.
We are Dentistry's Business and Data Integrity Specialists.
We help dentists and practice owners in matters involving data integrity, theft, fraud, embezzlement, financial misconduct and risk.
All of our clients are dentists, specialists, healthcare providers or practice owners.
Our work is conducted discreetly, and off-site to ensure confidentiality.
Is this you?
Do you have generalized uneasy feelings about the financial aspects of your practice?
Are you unhappy with your Accounts Receivable?
Do you feel the more questions you ask; the more evasive the answers become?
Does your employee go "above and beyond" to keep financial conversations out of your operatory?
If you answered yes to any of these questions, or have other suspicions, we advise you take the Dental Embezzlement Red Flag Assessment.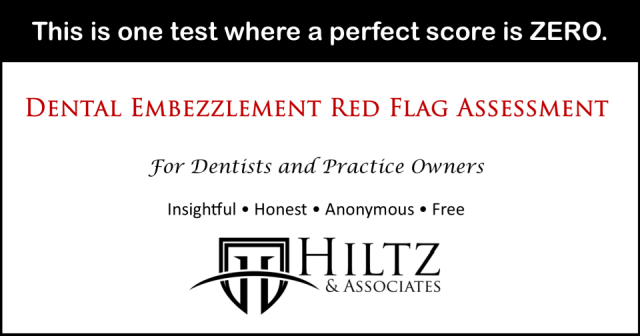 Our services include, and are not limited to:
Fraud and Embezzlement Examinations
Forensic (financial) Investigations
Litigation Support
Data Auditing
Data Mining & Analytics
Fraud Prevention & Detection
Security & Confidentiality of Electronic Health Records
Contact us and we guarantee you will receive a level of expert focus and direction that you will not find anywhere else.
This is no time for second best
Let us put our unparalleled talent, extraordinary skill set and uncommon experience to work for you.