---
This blog was moved in 2019
There is a new home and a new name!
---
#3 in our series of #TIPS intended to help you deal with fraud, embezzlement, waste, and abuse in your dental practice.
"Remote Desktop" software allows you or others to connect to your computer from a remote location over an Internet connection.
This allows others to access to everything on your computer as though you were directly connected to it.
Names like GoToMyPC, LogMeIn, and TeamViewer are names synonymous with these applications. Sadly, I have seen ALL THREE of these programs active and "listening" at the same time on a single dental office server.  Wuh?!!
I get it. Remote desktop access is useful when you need to access your office computer from home.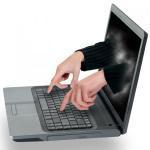 And, it is a lifesaver for computer software and hardware vendors when supporting their products and services.  I use it as well in my line of work.
However, sometimes a remote connection to a dental practice is unintentionally "left active".
This can easily happen when a computer support tech changes companies, or moves away and the remote access they once used remains active.
Check them all!
Dentists and Practice Owners – do yourself a favor and at least once a year, check every computer in your office to see which computers can be accessed remotely and then determine if the remote connection is still required.
If it is not being used, or does not need to be "always on" then disable it.